How To Register or Activate QuickBAS
Registering your copy of QuickBAS
The free trial version of QuickBAS is limited to 20 income and expense transactions, a single business entity and a single tax year. You can unlock your version of QuickBAS by purchasing a licence, and using it to Activate QuickBAS. This enables unlimited transactions, unlimited business names, and unlimited tax years.




Purchase a Licence
- Click on the Purchase link at the top of this page
- Click on the Add to Cart button
- Use the checkout options at the top of the page to purchase a licence
- We accept credit card, PayPal and bank transfers
- Credit card and PayPal payments are automated and licences are emailed within 10-15 minutes
- Bank transfers take 1-2 business days to clear and process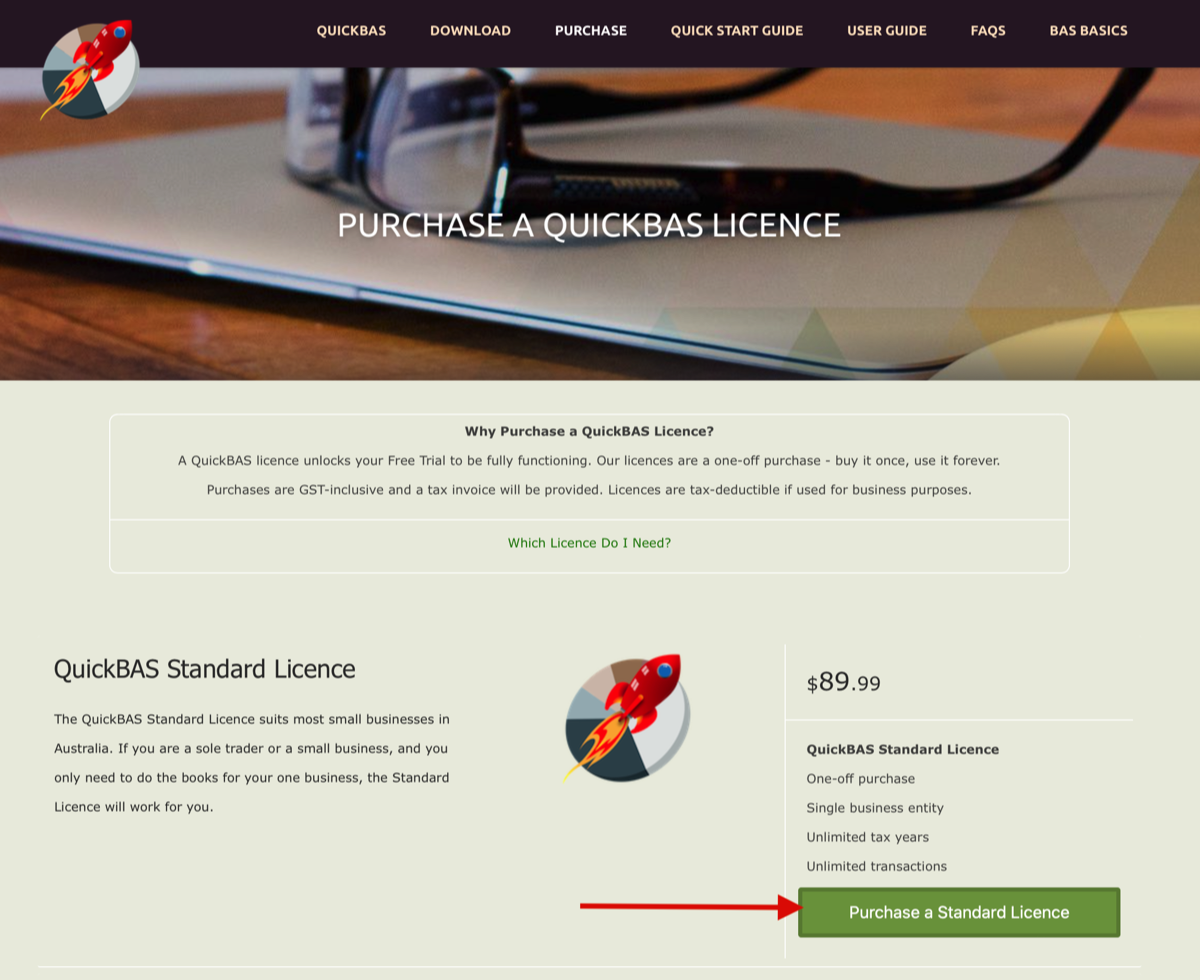 Activating on a Mac
- After you purchase, an activation licence code will be emailed to you
- This code unlocks your free trial version of QuickBAS into the full version
- Activation is done within the QuickBAS app
- Open the Free Trial version of QuickBAS
- Click on the QuickBAS item in the menu bar at the top of your screen
- Choose the Register option from the drop-down menu
- Fill out your registration details and paste in the code
- You need to be connected to the internet for activation to proceed
- Registering converts the Free Trial to the full (Standard or Pro) version

Activating on a PC
- After you purchase, an activation licence code will be emailed to you
- Activation is done within the QuickBAS app
- Open the Free Trial version of QuickBAS
- Click on "File" in the top menu
- Choose the Register option from the drop-down menu
- Fill out your registration details and paste in the code
- You need to be connected to the internet for activation to proceed
- Registering converts the Free Trial to the full (Standard or Pro) version